Meet the Doctor
---
A Healing Touch Chiropractic is made up of a team of professionals dedicated to providing the best quality healthcare in a responsive and caring environment. Dr. Robinson is board certified with years of experience in the profession. She works in concert with the office staff who try to understand your health issues quickly and apply the right treatment to get you back to your optimal health.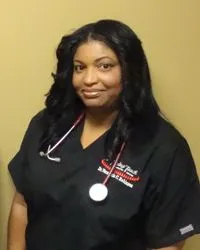 Dr. Vernishia C. Robinson
Dr. Vernishia C. Robinson is a native of Eastover, SC. She received her Bachelor of Science degree from Tuskegee University. She also completed additional graduate studies at Auburn University and Tuskegee University. Dr. Robinson received her Doctor of Chiropractic degree from Sherman College of Chiropractic. Dr. Robinson knows that the power that made the body can heal the body. Simply put, her goal is to remove nervous system interference in order to release the body's innate ability to heal. Additionally, Dr. Robinson has a strong commitment to giving back to her community. Dr. Robinson is also the proud mommy of an active little boy, Aiden Lucas Robinson and her furbabies: Max, Molly, and Blackjack Robinson.